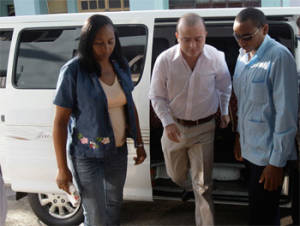 Carromero arriving for his trial in Bayamo last year
It is one of the guaranteed characteristics of the kind of politics that surrounds Cuba in the United States that whatever the facts might be, there are still those who will be gullible enough to believe anything that delegitimises the Cuban government. So it is that the
Washington Post
has swallowed hook, line and sinker the notion that the Cuban authorities might have had something to do with the tragic death of the Cuban dissident Oswaldo Paya in a car accident last year..
At the time of the accident, when I was asked by the BBC if I thought the death might have been caused by Cuban security agents, I said immediately then that I thought it would be extremely unlikely given the fact that it is not only completely out of character for Cuban security to assassinate anyone, but that it would also be utterly counterproductive. How would killing Paya, a person whose political impact in Cuba was inconsequential, be of any use to the Cuban government other than to provide ammunition for its enemies to use against it?
The idea that the Cuban government might have something to do with the accident that killed Paya circulated for a while shortly after his death but then quickly disappeared under the weight of evidence and the fact that the driver of the car, Spanish rightwinger, Angel Carromero, admitted to dangerous driving, and his surviving passenger, a Swedish political activist,
made a statement saying there were no suspicious circumstances
. The Cuban police produced a copious report on the incident and Carromero was tried and convicted of dangerous driving in a court on Bayamo, eastern Cuba where the accident occured. The BBC's
Fernando Ravsberg
reported on the court case at the time that even the Spanish Consul thought the trial was fair:
The Consul of Spain in Cuba, Tomas Rodriguez, described the trial of his countryman Angel Carromero as "clean, open and procedurally flawless," one that had ensured the defendant received a fair deal and in which "the defense was very good."
At the trial, Carromero denied that there were any other cars involved. However, now, since he has been repatriated to Spain, Carromero has changed his story by claiming that he was rammed from behind. The family of Paya are parading themselves around Miami saying that the death was suspicious and that there has been a cover up, and a rightwng bandwagon has begun which the Washington Post has climbed aboard.
While it might be understandable for the family of Paya not to be able to accept his death was an accident, it is clearly implausible and they should not be believed. They, and the right wing Miami crowd are the only ones who might gain anything from perpetuating this lie and the Washington Post is wrong to give them support.