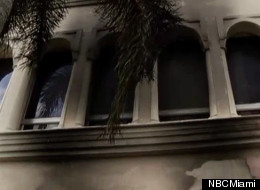 The fire this time...
A fire in a Miami travel agency was arson - A sign of worse to come?
A blaze last month that destroyed the offices of a Cuba travel agency in Miami was deliberately started, according to fire investigators and reported in the
Miami Herald
on 13 May.
The Coral Gables Fire Department report says that investigators found a disposable lighter, the remains of a green bottle, and a piece of asphalt after the fire at the Airline Brokers Co. that took place on 27 April. The items indicate the "potential use of a projectile to breach the building window, and the use of a liquid accelerant incendiary device in this fire," adds the report.
The blaze severely damaged the offices of the company, which arranged the flights and travel for hundreds of Cuban-Americans and others to the island for Pope Benedict XVI's visit in March
The worrying thing about this is the fact that in the 1970s and 80s, bombings of businesses and Cuba travel companies were commonplace in Miami. Violence returned in the summer of 1996, when Marazul Charters, a company that arranges legal flights to the island, had two of its offices bombed. A second travel business, Maira and Family Services, had a bomb thrown inside its offices within the same month.
Now the fires have returned just as travel to the island has grown since President Barack Obama removed a cap that limited family visits. Last year, the Cuban government said it was expecting 500,000 U.S. visitors annually, most of them Cuban-Americans, many of whom still have strong ties and family on the island.
It is clear that extremist elements within the Miami Cuban community cannot bear the thought of this leading to a rapprochement between Havana and Washington and will stop at nothing in trying to prevent it.